Is Apple Card Going to Standout from Rest of the Credit Cards?
Technology giant Apple is stepping into the credit card industry with its new kind of credit card called "Apple Card". It is coming out in August with the collaboration of Goldman Sachs Bank USA, Salt Lake City Branch. Apple already making some money with Apple pay and now it's going to make some more with Apple card. Apple has taken a lot of care and made this card as friendly as possible. It has all the thing that usually Apple products have, like simplicity, transparency and privacy. You can get this card virtually on your iPhone or a titanium laser-etched physical card.
Security:
When talking about customer privacy and security, Apple always bags the first position in this category. Apple always considers security as its highest priority. They designed the Apple card with the same motto.
For this, they eliminated the numbers on the card. Apple card will not have any numbers like card number or CVV.
When an Apple Card is issued to a customer, Apple pay technology creates a unique number to that card and that number is locked in a secure element of customer's iPhone.
You need to confirm either face ID or touch ID to make a payment using Apple pay.
Spending Tracker:
All your spending is tracked and presented in Apple pay in a beautiful way. With a single tap, you can get a weekly summary and another tap, you can get a monthly summary. All your spendings are divided into categories and each category is represented with a colour. And those colours will show up in the bars of the graph which represent your spending. If you see a lot of orange? That's food and drinks. Pink? That's Entertainment.
Apple card uses maps to pinpoint the location where you made a transaction. This helps you to get rid of remembering when, where and for what you spent the money. Your spendings are divided into categories like food, entertainment, Grocery, etc. By taping on the category you can see all the transactions belongs to that category.
Daily Cash: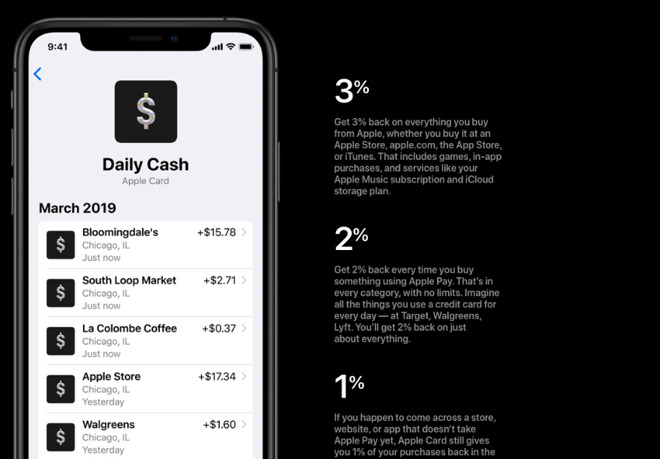 Usually, when you make a transaction using a credit card the cardholder can get some rewards if the transaction made by the customer meets the eligibility criteria of his bank. Here the problem is most of them impose a restriction on maximum rewards per transaction or per day. They also restrict users to get rewards only for a specific type of transactions. Most of the bank's issue rewards at the end of the week or month. These rewards will also have an expiry date.
But Apple cleared all these restrictions and they call the rewards as 'Daily Cash'. Daily cash will be added to your apple cash card in the wallet app right after the transaction and you can use it like cash, to pay your bills. Or to buy something. Or to pay back your friend in messages. Or send it straight to bank account. They don't impose any restrictions on the amount of daily cash you can earn per day or per transaction. The cardholder can get at least 1% to a maximum of 3% based on the transaction made by the cardholder. Since daily cash is being added to the Apple cash card right after the transaction. So there is no expiry date for daily cash.
EMI & Interest rates:
Everything related to interest, payments and balances made simple. The best way to save interest is to pay your balance in full at the end of the month. Apple APR's are fairly consistent in the credit card industry. They range from 13.24% to 24.24%. The simplest and the best thing here is that your iPhone will remind you ahead of any payment due date so that you don't miss it. You can easily calculate the interest by simply sliding the fingers on your iPhone.
Apple card also offers smart payment suggestions that will help you to save money by encouraging you to pay a little more, than you normally do and help you pay your balance faster.
Usually, credit card payments due dates will be in random because they calculate the due date for the date you made the payment. With Apple card, all your payments are due on the last day of the month. You can also set up weekly or biweekly payments to match when you get paid.
No Fees:
Apple card doesn't have any fees. No annual fees. No cash advance fees. No international fees. No over-the-limit fees or returned payment fees. And moreover, there are no hidden fees. Apple card won't charge any late fees or high-interest penalty rate even if you miss a payment. But Interest estimates are based on your posted account balance at the time of the estimate and do not include pending transactions or any other purchases you may make before the end of the billing period.
Apple Card Real-Time Support & Fraud Protection:
When a transaction is made, you will get an instant notification. So you will be the one who knows first when a transaction is made. If it doesn't seem good just report it with a tap. Apple will take care of your money. And you won't be liable to any fraudulent charges.
Need help or want to make changes in your Apple card. It was just one message away. For example, if you want to change the address associated with the Apple card just message update the address or change the address and provide the new address. That's it your address has been updated. No need to visit the office. No need to wait for email. No need to hold the phone for a long time waiting for someone to do the job.
It is a buzz that there are few more features which are not yet revealed. In my opinion, Apple card is really cool and will standout from the rest of the credit cards.
Hi, this is Chaitanya. I am a Student, Blogger and WordPress developer. I made this blog to share my knowledge and I hope this blog very helpful for you.